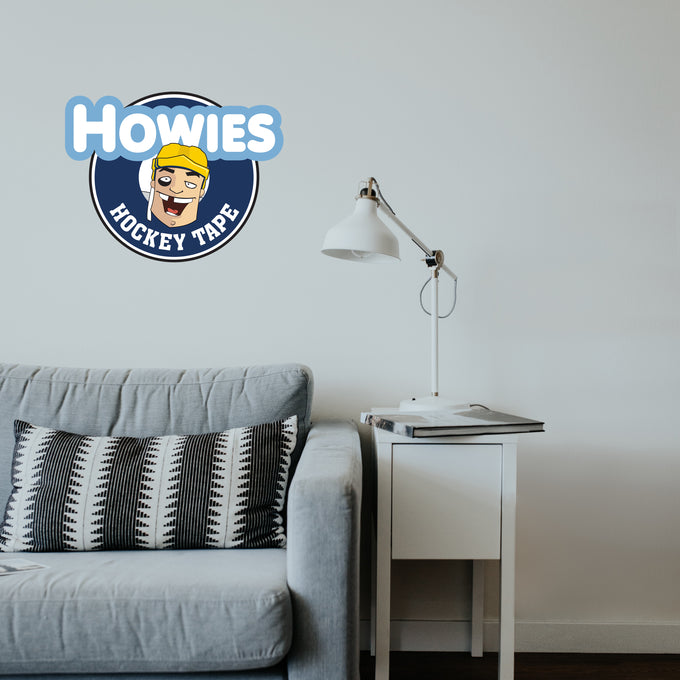 24" Howies Fathead® Sticker
Looking to fill that blank spot on the wall in your room? Look no further. The Howies Hockey Tape Fathead® Sticker has arrived! This 24" wide sticker is the perfect addition to any hockey player's room, basement, or man cave. It's safe and reusable, sticks to most smooth, flat surfaces, and is made with a thick, high-grade vinyl that resists tears, rips, and fading. Let your friends know that you #StickWithTheBest! 
20"h x 24"w
Reusable design is safe for walls
Sticks to most smooth, flat surfaces
No tape or tacks required
Thick, high-grade vinyl resists tears, rips & fading
Made in USA
Installing Your Fathead Wall Graphic
UNBOX your Fathead container from its shipping box.
UNROLL your Fathead, and let relax flat on the floor for an hour.
PREP your wall while your Fathead relaxes. Choose a wall according to the dimensions of your decal, and wipe down the wall surface with water to remove dust and dirt.
PEEL with the help of a friend from the top down. Slowly peel away from backing without letting the Fathead stick to itself.
STICK one corner of your Fathead to the wall with minimal pressure and apply outwards from there. If you make a mistake, you can unpeel and try again.
SMOOTH out air bubbles and wrinkles. Start from the middle, and push out toward edges.
ENJOY your awesome Fathead decal!