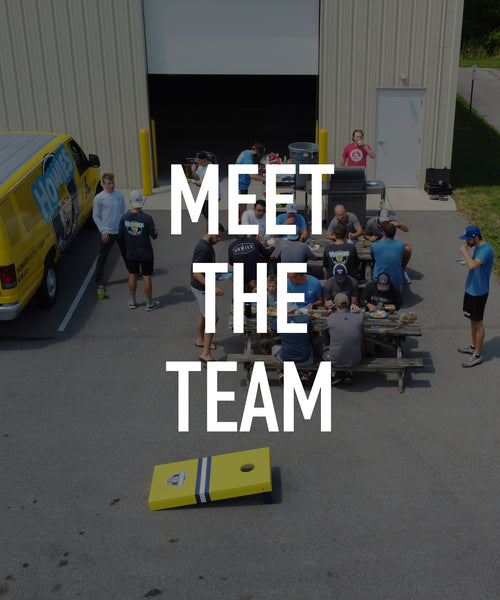 the howies work culture
We've got a unique work culture here at Howies. We all grow out our mustaches in November and chirp each other during our quarterly meeting breakfasts. We've got a synthetic ice in the back of the warehouse for those that need a mid-day pick-me-up and we've an company-wide skate on Tuesday mornings at our local ice rink. We fiddle with hockey sticks while on the phone with customers and fumble around with trying different tape jobs when we're feeling fidgety. Fortunately for us, we get the opportunity to translate a lot of that culture into our work. We work with so many rink owners, pro shop employees, team managers, athletic trainers, and coaches on a daily basis that all share one common interest: hockey. We talk hockey. All. Day. Long. Whether you're a customer looking to exchange a t-shirt for a different size or an equipment manager putting in his or her team order for the year, we'll talk hockey. Who your favorite player is. How your team is doing. We love every second of it. We love playing and watching hockey, so being able to work in that same industry is truly a gift. We're blessed to work for one of the coolest companies in the world and we don't ever take that for granted.
when you get tired at a regular company, you get a cup of coffee from the break room to get some caffeine. at howies, you take a quick trip to the synthetic ice out back for a few shots on net to get the blood flowing.
work hard, play hard
Here at Howies, we take the phrase "Work Hard, Play Hard" very seriously. When we're not busy taking care of our customers, we're busy playing hockey and having a good time. It's only right that we have our own men's league team three nights a week at three different rinks. Every now and then in the summer, we'll grab some meats, drinks, and sides and enjoy each other's company during our lunch breaks. Well, enjoy might be a strong word because the ping pong tourneys and the Spikeball matches tend to get a little heated. When the days are just too perfect to be working, we'll take a quick trip to the driving range, play pick-up basketball, or get some batting practice in at the rec center to stay seasoned for our summer softball league. In the wintertime, we'll crack a couple of cold ones and watch the Red Wings or even go to a Grand Rapids Griffins game downtown. All in all, we're always up for a good time, both in and out of the office.
see available positions
the howies difference
We know that Howies doesn't exist without you, Howies Nation, the folks that show us unending love and support. It would be easy for us to just say "thank you" in this blurb or post on social media about how grateful we are for all of you, but we want to do more. That's why after you order from Howies, you can expect a personal phone call from someone here just to tell you how much we appreciate your business. It's just one more thing that makes ordering from Howies the "World's Highest Quality" experience.