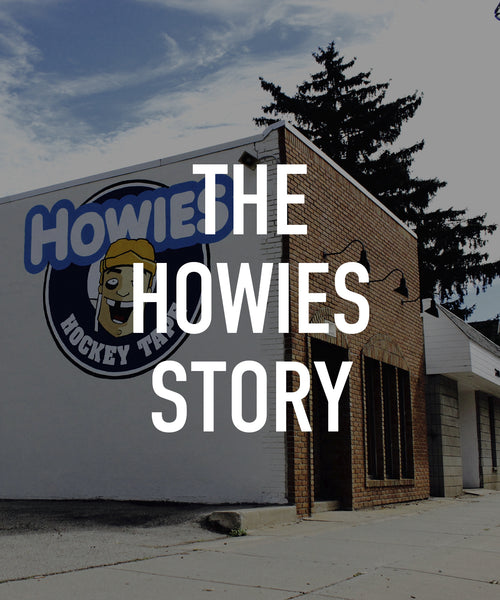 WHERE IT ALL STARTED
In 2002, Howie got tired of sub-par tape that would fall off his stick halfway through the first period. He thought to himself, "there has to be a way to make better tape." After some time, a ton of research, and even more development, Howies Hockey Tape was born.
Howies was formed on the values of quality - utilizing only the highest quality materials and pairing that with unmatched customer service that focused on always being helpful and prompt. The very first headquarters was out of his parents' garage and HQ2 transitioned into the basement of his dad's photography studio in downtown Grand Rapids. From having to hand load pallets onto semi-trucks that were forced to precariously back into the tiny parking lot downtown to having two guys that handled all things sales, operations, logistics, warehousing, and marketing, Howies certainly had some humble beginnings.
Since then, Howies has grown. We've moved on to HQ3, HQ4, and currently in HQ5 where we have office space, a warehouse that somehow always seems to run out of space, and employees in every department. We've grown to serve almost every single NHL, AHL, NCAA Division I, and Major Junior team across the world. We've also grown to serve pro shops, rinks, and retailers in every single continent - except Antarctica. Howies has grown into a global brand and has become a household name for any house that knows and plays hockey.
However, we still keep our original principles close. We did not, have not, and will not abandon those values by continuing to prioritize quality and care for our customers. We are committed to producing the world's highest quality hockey products while building the world's highest quality relationships. It's as much about people as it is about tape for us. They're the whole reason we got started and the whole reason we keep going. 
The world's highest quality products paired with the world's highest quality service - that's our guarantee. If you're ever dissatisfied with our tape, laces or any other product, let us know and we will make it right and make sure you get taken care of - you have no risk when you deal with howies.